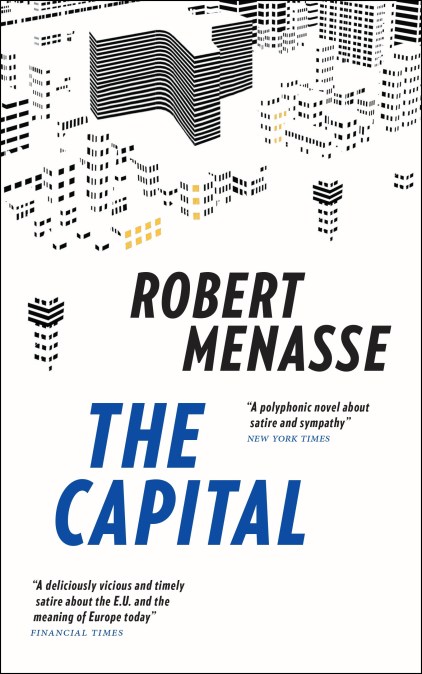 The Capital
Brussels. A panorama of tragic heroes, manipulative losers, involuntary accomplices. In his new novel, Robert Menasse spans a narrative arc between the times, the nations, the inevitable and the irony of fate, between petty bureaucracy and big emotions.

Fenia Xenapoulou is facing a career setback. She has been "promoted" to the Department of Culture by the Directorate General – no budget, no power, no reputation. So the "Big Jubilee Project" comes just at the right time, to revamp the image of the European Commission. Her Austrian personal assistant Martin Susmann suggests proclaiming Auschwitz as the birthplace of the European Commission. Fenia is thrilled, but she has neglected to take the other European nations into account.

Inspector Brunfaut is in a tricky situation too, his murder case has been suppressed at the highest level. Luckily he's friends with the I.T. whizz at the Brussels Police Department, who gains access to the secret files of the public prosecutor's office. Matek, the Polish hitman, knows nothing of this when he makes his escape. But he does know that he shot the wrong guy, and for Matek, who would rather have been ordained a priest, this is serious. And what about the pig farmers who take to the streets of the city with pitchforks to protest about existing trade restrictions that block the export of pigs' ears to China . . .
Reviews
A traditional novel, broadshouldered, omniscient, almost Balzac-ian, but with terrorism part of a plot centered satirically around an all-too-plausible Brussels idea.
An elegantly written, brilliantly constructed novel, full of discussion points and ideas
A major jubilee project is planned to celebrate the 50th anniversary of the establishment of the EU commission. Menasse develops his sophisticatedly constructed story, in which nothing is random, around the preparations
The politically engaged intellectual proves himself to be an uncompromising and indeed passionate storyteller. A storyteller, moreover, who handles his material so confidently and with such ease that you swiftly forget the complexities of the figures he describes. After almost 500 pages you are astonished to have already come to the end
A deliciously vicious - and timely - satire about the E.U. and the meaning of Europe today
Menasse has a finely tuned satirical ear that easily criss-crosses borders . . . an intelligently written, pacy novel whose wide-ranging narratives ensure the momentum never wavers . . . Robert Menasse has produced an extraordinary piece of work
[An] ambitious panorama that arrives amid the throes of Brexit and the Chinese Year of the Pig. Intelligent, fun, sad, insightful - an exceptional work.
A thoroughly entertaining fiction that serves both as a sort of campus satire and a novel of ideas . . . Menasse packs his Brussels with sharply-etched types . . . With its zest, pace and wit, Jamie Bulloch's translation serves him splendidly.
The Capital is a mischievous yet profound story about storytelling; about the art of shaping a narrative by finding resonances in the messy stuff of life . . . [An] unexpectedly delightful book about Brussels.